FER-PAL Demos Robotic Watermain Rehabilitation in Illinois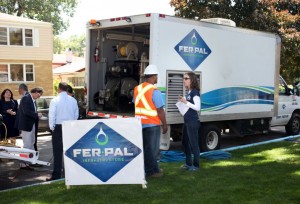 This July, FER-PAL Construction demonstrated the firm's robotic watermain rehabilitation technologies in Evanston, Illinois to state and local officials as a part of the company's efforts to highlight their environmentally friendly solution to the state's aging water infrastructure.
FER-PAL Construction, based in Toronto, was established in 1986 to provide municipalities with watermain rehabilitation services using "trenchless technology." Illinois Governor Pat Quinn first met with FER-PAL CEO Shaun McKaigue in 2011 when they travelled to Chicago. Later, Quinn solidified the relationship with FER-PAL while visiting Toronto and convinced the firm to locate its U.S. headquarters in Elgin. After Quinn officially opened FER-PAL's Elgin headquarters in 2013, FER-PAL has expanded to working in 12 municipalities across the State.
FER-PAL uses robots in conjunction with its cured-in-place piping (CIPP) proprietary technology to essentially create a new pipe within the old existing pipe, eliminating the need to dig long trenches to replace the aged watermains. CIPP technology provides municipalities with a green alternative that reduces greenhouse gases by 90 per cent and reduces project expenses by 30 per cent. It also limits disruptions to surrounding neighborhoods and environments including the ability to save trees from any damage during construction.
According to the U.S. Environmental Protection Agency, it is estimated the total water infrastructure needs in Illinois over the next 20 years total $32 billion, including $17 billion in wastewater projects (which is the sixth highest among the states) and $15 billion in drinking water projects (fourth highest need in the nation).
Quinn launched the $1 billion Illinois Clean Water Initiative in his 2012 State of the State address to help local governments facing a critical need to overhaul aging drinking water and wastewater treatment plants and distribution and collection systems.