Day 2: APWA Congress in Chicago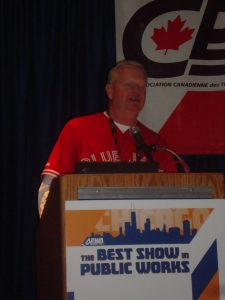 The Canadians are here! The Canadians are here!
For more than 100 years, the APWA International Public Works Congress & Exposition has drawn thousands of public works professionals from all over the world. And in 2014, the congress is coming to Toronto—the first time it has been held outside of the United States since it was last in Toronto in 1988.
ReNew was on location in Chicago to cover all the goings on. Paul Smeltzer (pictured at podium), chair of next year's expo, announced aggressive sponsorship and attendance goals for the 2014 event to attendees at the CPWA luncheon. The Canadian booth was a popular sea of red: we handed out maple syrup candies, Molson beer, and popcorn to some of the 7,000 people who attended this week in Chicago. I even gave the shirt off my back to an American man who simply had to have one of the red Blue Jay jerseys we were wearing—all for the cause of promoting Toronto in 2014.
Many of the 400-plus exhibitors confirmed their participation in next year's congress at the end of the show, and OPWA/CPWA volunteers are already working on conference presentations, speakers, and special events. As the show wrapped up, it was clear the OPWA team had been inspired by new public works knowledge and is excited to be setting the stage for Toronto from August 17 to 20, 2014.
See you then!