Manitoba Budget Lacks Long-Term Funding: AMM
The Manitoba government tabled its budget for the 2012-13 fiscal year yesterday, leaning hard on its financial commitment to transportation, social infrastructure, and downtown development in the province's cities.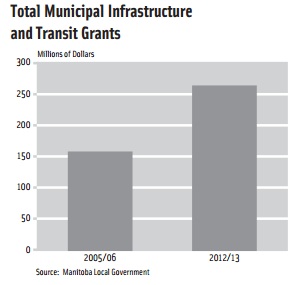 In his budget speech, Finance Minister Stan Struthers said last year the Province committed to provide the equivalent of one percentage point of the provincial sales tax (PST) to support investment in municipal infrastructure and public transit.
But Winnipeg Mayor Sam Katz and Association of Manitoba Municipalities (AMM) President Doug Dobrowolski today expressed disappointment that the provincial budget has no long-term solution for infrastructure investment.
The Province will support one-third of the cost of future phases of rapid transit in Winnipeg. "We are moving forward with the City of Winnipeg on a corridor selection process to build the next phase of rapid transit to the University of Manitoba and the new stadium," said  Struthers. The stadium he's referring to is the  Investors Group Field, under construction by Stuart Olson Dominion (a subsidiary of Churchill Corp.) and scheduled for completion this summer.
The Province is moving forward with its 10-year, $4-billion highway renewal plan, which Struthers said is ahead of schedule and will grow by almost $23 million to $262 million this year.
A 2.5 cent increase in the gas tax will support extensive rebuilding of infrastructure damaged in last year's floods, but also to ensure stable, ongoing funding for public infrastructure, said Struthers. The motive fuel tax will be adjusted by the same amount. "Every cent raised in these ways will be invested in roads, bridges, and other infrastructure—guaranteed," he said.
Core government spending is decreasing 3.9 per cent, Struthers said, and the budgets of 10 departments have been frozen. Spending increases are targeted in infrastructure, health, education and training, public safety and services for families.
"Roads and bridges are long-term investments," said Struthers. "They take years to build and must be maintained into the future."
Despite this comment, Katz doesn't believe the Province is thinking about long-term investments, or future maintenance.
"Everyone knows we have a crisis in infrastructure," said Katz in a release yesterday. "Manitoba communities still have no long-term, sustainable funding solution that would allow us to plan for the future. We're falling so far behind in fixing our roads, bridges, sewers and community infrastructure that we may never catch up."
Last year, the Province committed to providing the equivalent of one percentage point of the provincial sales tax to support investment in municipal infrastructure and public transit. The formula is that, Manitoba's economy grows, so do these investments . "This year, it is expected to grow by almost $2 million to $262 million," said Struthers.
But the AMM says a new source of growth revenue dedicated to narrowing the infrastructure deficit is needed, and is calling for a new funding formula that would  provide adequate sources of revenue for ongoing infrastructure renewal.
"This isn't a Winnipeg problem or a rural problem – it is a Manitoba problem," said AMM president, Doug Dobrowolski. "Our infrastructure deficit is in the billions of dollars and municipalities just can't handle it on  their own. This budget did not deliver what is needed."
Does it make sense to base investment in infrastructure development—and activity that's been shown to create economic growth—on the level of economic growth in the province?
Katz said the growth in provincial grants in Winnipeg has not kept pace with the growth seen in other provinces.
"Modern infrastructure is key to supporting our economy and creating vibrant communities," said Katz. "Winnipeg City Council and the AMM have previously asked the Province of Manitoba to provide one point of the existing PST over and above funds that are already received, which would be dedicated as a stable, reliable source of funding for  municipal infrastructure."