Glazed Over
Changes to Ontario's building code could mean fewer glass buildings in city skylines.
Significant changes to the 2006 Ontario Building Code (OBC) will likely greatly reduce the number of glass-walled towers being constructed in Ontario cities—and not a moment too soon, say energy and design professionals.
The updated OBC generally follows the building standard outlined in ASHRAE 90.1-2010 combined with ASHRAE 189-2009, the design standard for high performance green buildings. In terms of building envelopes, the standard actually encourages the design of green buildings, rather than just the bare minimum of energy efficiency and occupant comfort.
A significant improvement over the codes in other Provinces and in the United States (see "Code Comparison"), which typically require the earlier incarnations of ASHRAE 90.1 (typically 2004 or 2007), Ontario now requires the much higher energy performance standards set in ASHRAE 90.1-2010. The Province went even further by revising that standard to include the ASHRAE 189-2009 envelope performance.
There are two ways to meet the updated OBC: the performance path and the prescriptive path.
The prescriptive path will have some real eye openers for many design teams:
• No more than 40 per cent glazing (which means the floor-to-ceiling windows in a typical glass-walled tower isn't an option);
• Many common wall constructions, such as Z girts and spandrel panels, will struggle to meet new required insulation values;
• Very high performance, double-glazed fenestration systems, and sometimes even triple-glazed windows are required; and
• Heat recovery ventilation (whereby exhaust heat is used to preheat incoming fresh air) required in more building types.
A typical new glass-walled tower has a 70 per cent window-to-wall ratio, while a punched window design, where windows are inset, often achieves 30 to 40 per cent. This means Ontario designers can say goodbye to glass box tower designs—unless they take the performance path and make mechanical or electrical improvements that compensate for the envelope performance. The performance path requires that a building be designed to achieve one of the following:
• 25 per cent annual energy savings relative to the Model National Energy Code for Buildings (MNECB)—this is essentially the prerequisite energy requirement for LEED accreditation;
• Five per cent annual energy cost savings relative to ASHRAE 90.1-2010 (without the OBC envelope revisions); or
• Lower annual energy cost relative to the OBC prescriptive code of ASHRAE 90.1-2010 with ASHRAE 189-2009 envelope revisions.
Designers who take this route will still have the option to go with glass, if that's their aesthetic, but they will have to show an energy model that demonstrates which building features are improvements over the reference buildings, whether that's daylighting sensors, triple-glazed windows, ultra-high-efficiency heating plants, or other green technologies.
The performance approach is not the best choice, according to the Canada Green Building Council (CaGBC). A rep from the organization says, "At the end of the day, the energy performance of a building is the result of many design decisions, so it's possible to offset some design elements—like increasing the amount of glazing—with others, such as using triple glazing, incorporating automatic shading, or designing great HVAC&R systems. But on the whole, we believe that each design element should stand on its own merits, and that the impact on energy performance should be heavily weighted. Given the significant impact the building envelope design has on energy performance, the use of full glazing does not appear to be the best design decision."
For designers who choose the performance path, incorporating proven, low-cost technologies and design solutions will be increasingly critical. Designers will have to consider new ways of improving envelope and window performance, such as
• Using punched wall designs that make it easier to achieve window-to-wall ratios of 30 to 40 per cent (vision area/total area);
• Placing more insulation in the interior of the spandrel panels in curtain walls;
• Using fibreglass rather than aluminium window frames; and
• Using triple-glazed windows or curtain walls with low-e coatings and argon fills.
Despite these challenges, the 2012 OBC is a significant step in the right direction for the province and a benchmark for other provinces and states looking to make a significant impact in the area of energy efficiency—if it can be enforced. In the past year, code officials have started asking for more documentation to prove that new buildings will meet existing code requirements. But the current code is not well enforced. Will officials enforce the new, more stringent building code?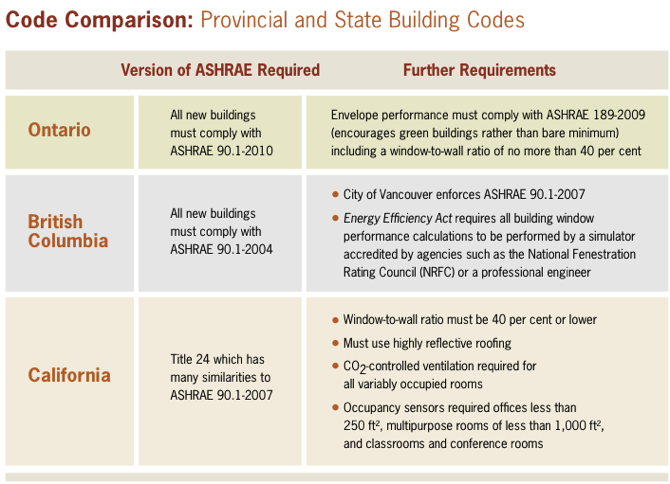 Steve Kemp, P.Eng, is head of the energy performance group at Enermodal Engineering (a member of MMM Group Limited).