Networking
How do we move from stand-alone transportation projects to integrated systems? Connecting all transit modes means first connecting industry leaders. So, in partnership with Arup and Thales Canada, we invited those leaders for a candid roundtable discussion.
In the space of 90 minutes, Gordon Chong said a lot of things that can't be printed. These sessions are always in camera and, as such, participants have the opportunity to speak off the record. One thing he would say openly: "Sometimes it's good to have things stirred up."
Chong was arguably the most controversial player to attend this meeting—more accurately, what he represented was one of the afternoon's most heated issues. Chong is with Toronto Transit Infrastructure Limited, which was revived by the City of Toronto under Mayor Rob Ford's administration to look at preparing a public-private partnership (P3) procurement for the estimated $4.7-billion Sheppard subway line. Funding for many of Toronto's planned transit projects is in question now that the last administration's Transit City plan has been scrapped.
The situation in Toronto—and the surrounding Greater Toronto and Hamilton Area (GTHA)—may be heated right now, but it's also a good case study for other Canadian regions. In between the airing of frustrations came a frank discussion about the barriers to developing, as Chong said, "a truly integrated network of transit within the city of Toronto, but also an integrated network of mass public transit in the greater Toronto region." Along with the barriers, some solutions were also presented.
Across the board, participants agreed that Metrolinx, the transportation authority for the GTHA, is a close to ideal model for delivering that much-desired network of seamlessly integrated transit modes.
"We very much support the Metrolinx plan," said Linda Weichel with the Greater Toronto CivicAction Alliance. "We're working to build support across sectors to implement and fund that plan."
At the same time, everyone agreed that even the best transportation plans in Canada still need to focus more on the big picture. Eric Miller, director of University of Toronto's Cities Centre, said, "Metrolinx has a very good transportation plan, which considers land use. But to a certain extent they assume Places to Grow (Ontario's plan to manage growth and development) is going to take care of it. I think there's still not the connection between the land-use planning  and the transportation planning that we need on the ground, at the local level."
And although The Big Move, Metrolinx's plan for the region, is on the right track, there are a lot of episodic and independent efforts going on around the plan. A more sustained initiative is needed. One that brings all the different players together.
Stable financing, sustained political support, and unicorns
That ideal situation is much easier in theory than in practice.
Rod McPhail, director of transportation planning for the City of Toronto, said, "Everybody wants to move in the right direction; a lot of times it's just a matter of bringing all the pieces into alignment, particularly the financing."
Projects need more than just financing. They need secure financing that isn't going to disappear with a changing political administration. These days, that's like finding a pot of gold at the end of a rainbow.
"Without assured revenue streams to pledge against a project bundle, we're not going to get past the starting gate," said McPhail. "The biggest assurance to plan and project implementation in sustainable finance and all that comes along with it is a strong debt financing strategy, engaging the private sector early in delivering large-scale projects that will be of interest to them."
With this, said McPhail, cities like Toronto—and regions like the GTHA—engage the rest of the world in financing their large-scale transit projects. Many are hoping that the upcoming Pan Am Games, which Toronto and Hamilton are hosting, will deliver that next bundle of world-class projects. One participant, who seemed to have given up on Transit City's projects, said, "Pan Am is our next best hope."
But Mario  Péloquin, VP at Thales Canada, Transportation, said waffling on the financing for these big project bundles is starting to put Toronto on foreign bidders' no-fly lists. "There's a lot of cynicism in the business world when looking at transportation projects in Canada because we've had a few fiascos in Ottawa, Vancouver, and Toronto that have made the risk profile of projects a lot higher than in other countries." Spending the time to respond to a request for proposals on projects that may or may not actually get built is a risk some companies may not be willing to take.
How do all levels of government align their long-term priorities and agree to stick to a plan?
Maureen Shuell said, "I've been with the Canadian Urban Transit Association for about twelve years, and much of the advocacy work we do is about making sure all orders of government are on the same page. We work hard to explain our position on the importance of public transit to each level of government in the hopes that they will speak to one another and cooperate—that's one of our biggest challenges."
McPhail has been in the transportation field for 37 years. He has a slightly different approach: "Politics and transit implementation just don't mix," he said. "That's been my frustration for my whole career. There have been a lot of great plans—implementation is always our challenge."
Congestion
Political stability isn't the only factor that could limit a city's global appeal. A transportation system that moves people efficiently, and less congestion means a healthy economy.
Toronto was once a city that attracted global attention because of its impressive transit. "Remember when people used to come from all over the world to look at Toronto and how it did things right?" asked McPhail. "To paraphrase our previous mayor, 'we have a really good transit system for 1.5 billion people; the problem is we now have 2.5 billion people.'"
McPhail argued that Toronto has a fairly good integrated system, better integrated than most in the world. The problem is that most of the transit system has been in place for a really long time without significant expansion.
Even so, Toronto and Montreal still rate relatively low on the "commuter pain" scale, compared to cities like Beijing and Mexico City. This statistic is according to a recent commuter survey undertaken by IBM this year. Regardless, John Howe, VP of investment strategy and project evaluation at Metrolinx, believes the GTA's number-one economic and quality of life issue is congestion.
But Canada dropped out of the World Economic Bank's top 10 cities this year—one of the categories is infrastructure. Glenn Miller with the Canadian Urban Institute (CUI) said a  recent CUI report on office sprawl shows clear gaps in service in the GTA. At present, within the Toronto region as a whole, 108 million square feet of office space is located beyond the reach of high-order transit (bus or light/heavy rail that operates in its own right-of-way). Even after current transit plans for the region are built, approximately 98 million square feet of space will remain unserved.
Miller said, "Although CUI is very supportive of all of the efforts related to The Big Move, [our report] does highlight the fact that even if we were to implement all the plans for transit that are currently in place, there would still be almost 100 million square feet of office that is not served by transit, so we're not really addressing the congestion issue."
Transit City
McPhail said, "The day that Transit City was pronounced dead was a tough day for somebody like myself—basically, you're told one morning that all the projects you've been working on for four years are dead, there's going to be only one project now." The $8.2-billion Eglinton crosstown underground light-rail transit (LRT) line will absorb all the provincial funding meant for Transit City's 8 projects. It eclipses the $6.5-billion Romaine hydroelectric project—the biggest construction project in Quebec—to become number one on ReNew Canada's annual Top 100 list of Canada's biggest projects.
McPhail finds this especially disappointing considering the Eglinton project started and stopped almost 20 years ago. "It should be in place already," he said. "We should be riding on Eglinton."
Chong said it's up to federal and provincial governments to stop ad hoc project funding. He argued it's more destructive to implementation than a change to the administration at the municipal level. "The federal and provincial governments really do have more financial resources at their disposal to move things in the right direction," he said. "It doesn't matter if you have the most transit-friendly people municipally or not, without that additional funding, you can talk about the private sector, but it's highly unlikely that the private sector will come in for the whole shot."
What about Transit City? It had long-term funding and support from upper tier governments, and the municipal government chose to change course.
"Plans change; they're not set in stone," conceded Eric Miller, "but they shouldn't just be thrown out the window because we change an elected official."
Anna Pace is director of strategic partnerships for the Toronto Transit Commission's (TTC's) transit expansion department. She said, "A lot of the thinking and rethinking has occurred over the last 25 years [in the GTA] have been because although subways provide great transit service and provide an enormous benefit in the immediate vicinity, they are hugely expensive." Many cities are choosing LRT and BRT as a middle-ground between buses in  mixed traffic and subway.
The solutions
Support
Glenn Miller said, "When Transit City was cancelled, I thought, 'where were the players with vested interests? Why didn't they speak out?' It was seen as a transportation project that failed rather than a city-building project. Where were all the developers and others?"
Eric Miller said, "In these situations, it's really a third party like a citizen's coalition or association that's leading the charge on the marketing for these projects, it's not the transit agency which is seen as having a vested interested. We need to see more of that."
Employers also need to be part of the conversation. "We know that employers are deeply concerned about transportation," said Weichel. "One of the keys to the success of the plan will be their support of some of the new financing tools that we've outlined in our Breaking Boundaries report."
Governance
Political courage is often a concept associated with one person: a champion. But what it really means, more often than not, is a group of people with the ability to stand behind one decision.
McPhail said, "I got my job when amalgamation of the cities happened in 1998. At that time, I was really encouraged; there was an attempt to start up a services board with representation from across the Toronto area and it was the right thing to do. The problem is it meant 44 politicians sitting in a room making decisions on a regional basis. That didn't work very well."
More recently, McPhail has been working a lot with Metrolinx. "I do think this type of model is the way to go," he said. "You don't think in terms of jurisdictional boundaries, but you do think more on a regional scale."
Chong said that while he thinks the first batch of Metrolinx board members didn't work out, the model is now working with more private sector participation.
But it's not all rainbows from here on out, said Chong. These types of agencies and boards may work well together, but they also need to have the power to implement their plans. He argued that regional chairs and mayors lobbied the provincial government to kill the Greater Toronto Service Board (GTSB) when it appeared that it might "tread on their turf."
The board, comprised GTA mayors, regional chairs, and several Toronto councilors, was established in 1998 to help coordinate transportation and land-use planning at the provincial level. It was not meant to have the authority to set rules about how land should be used or how transportation should be funded, rather it proposed solutions to issues such as sprawl and gridlock.
The GTSB was dissolved in 2001. Chong said, "What happens when governments set up agencies, boards, and commissions and then appoints the members is that same government can't resist trying to manage their affairs. While it is reasonable to provide overarching oversight, micromanaging is not. Occasionally, governments push the envelope and interfere when it suits them politically."
Independence is sometimes difficult for independent agencies, as is collaboration.
Péloquin said, "I've been involved in the transportation world for about 27 years, and for about that length of time I've heard from different people, 'it's not in my power to make this happen because it's somebody else's jurisdiction.'"
Weichel said that CivicAction has reached out to the mayors and chairs of the Greater Toronto region. "It's clear that implementing a regional transportation network is top of mind given the gains that will bring."
Despite the gains in economic and social development and for the environmental health of the region that Weichel mentioned, Péloquin said, "It seems like there's no policy that makes everybody talk together to have a system that functions like some systems that I've seen in Europe. There, you'll find very small cities that have everything from subways to bus to LRT to high-speed rail (HSR) running through them."
Péloquin pointed to Nuremberg, Germany, as an example of this type of city. "People don't need a car and in fact most people don't have a car," he said. "I've tried to talk to a lot of people in Canada about that but there's not a champion who wants to pick up the ball and run with it."
Steve Clark, principal and Americas rail leader with Arup, agreed, saying, "A political champion who crosses across all agencies and sub-regions is necessary so that a single agency or sub-region doesn't become the target. Then it becomes a regional or multi-community wide project, not a single agency or single community project."
But if one person or group champions a project under a particular administration, and then the political landscape changes, that support can be the project's undoing.
"Branding is turning into a bit of a double-edged sword," said Eric Miller. It can help get the public excited about a project, but if over-identified with one political party, that can be a project's downfall.
Transit City belonged to the former administration in Toronto; a new administration may not want to implement someone else's plan, even if it's a good idea. Shuell said, "Often, political complications can create barriers to project implementation." That was the case with Transit City and some worry that after the October 6 election in Ontario, The Big Move (closely associated with the current administration) will suffer the same fate.
What to do?
Eric Miller said, "You have to separate the business case/the substance of it with the branding layer. Every government wants to put its own stamp on things, and we've seen this in some other areas. Regional growth planning is an example. We tend to forget that it started under Mike Harris. When the Liberals came in, there was already a Smart Growth Secretariat; they dropped the 'smart.' So they renamed it but they just took it over. One of the big challenges going forward is, will it survive another round of changes. What you need is political buy-in that's not ideological."
It's not about pet projects, or even transit, it's about overall good planning: and that's integration.
Transit City had a very strong political champion in the form of [former Toronto mayor] David Miller, which put many of its star projects in the spotlight. On the other hand, the subway into York Region (the Spadina-York Subway Extension) that's under construction has gone relatively unnoticed, with the general population much less aware of it because it never became the public project of one entity.
Yet, it's a solid project of which Pace is proud. "York University is now a major transit hub that will get much better transit service with the subway extension," she says.
Funding
McPhail worked closely on the Spadina-York line, and says it's not just the politics that were handled well. The funding was all arranged by way of a funding partnership between the federal government, provincial government, City of Toronto and York Region at a time when the Province of Ontario was running a surplus. "That money was taken and put in a trust account," said McPhail. "And that's so much more powerful than a lot of people understand. The money is in the bank—you can keep on building it even if the political stripes change."
Clark suggests tax funding as a way to address this critical dilemma. "Voters will vote for increased taxes when they know precisely what the taxes are going for, and it is a well defined project with a clear start and end date," he says. "They will not vote for taxes just to give politicians more money to spend on ill-defined, perpetual programs designed to redistribute wealth."
Pace said, "On-going, sustainable, predictable funding for transit—to maintain and operate existing transit and expand transit—is one of the most important issues for transportation right now."
But that's something those outside of this circle of inside players need to grasp.
Hilary Holden, transportation planning lead with Arup, agreed. "The best way of getting funding and investment into transit is by exploring the details of the economic benefits it can bring." While urbanites may not like the idea of living and working so close to other urbanites, density is what defines successful cities, and study after study has shown that higher densities bring higher wages, productivity, and tax receipts. While many still prefer the personal space afforded by a solo car commute, transit brings more people into towns and cities. Longer journey times by transit aren't a problem if the time can be used productively, which means over-ground transit and wireless as standard, said Holden.
The public needs to understand this, but so do our country's leaders. "We need a federal government that recognizes that transit is hugely important to the economy of the country's largest cities," said Pace, who supports the development of a national transit strategy.
"That's a good idea," said McPhail. "The federal government must get more involved; we all know the reasons why it doesn't."
McPhail pointed out that while a federal strategy would be beneficial, "the Province of Ontario made a bold move to start funding more transit infrastructure than ever before, at least in the recent past." Could giving more power to regional authorities be more effective than lobbying the feds for more involvement?
Corey Wong, a senior transportation planner with Arup, says TransLink, Metro Vancouver's regional transportation authority, has helped avoid a pitfall Pace pointed out. When funding is rolled out from upper-tier governments, every jurisdiction puts its hands out, which means the dollars are spread far too thin to be effective. "TransLink's role is to focus limited transit funding in investments where transit is most likely to succeed and provide a viable and convenient alternative to driving to create a cost-effective service," says Wong.
"We shouldn't put all our eggs in the national strategy basket," said Howe. "We should also push for a self-help approach, where a region, in collaboration with local governments and community stakeholders, makes the case for dedicated financial and revenue tools."
Eric Miller said—"I would argue that historically in this region, we've had very few serious regional plans. To a certain extent, we haven't taken planning seriously enough in this city or this region and that we're finally starting to do that. We've always been great at announcing grand schemes and then doing the planning to justify those schemes and they usually then fall apart."
Once again, the conversation comes around to being able to create a blueprint for moving into the future that is flexible, yet the essence of which survives changes in political regime.
Glenn Miller said, "I asked the Swedish Environment Minister a few years back how they've been able to make so much progress with district energy, transportation, and land-use. He said, basically, no matter what political party was in power, the environment was seen as too important to be a political issue. If we can start to get the discussion around how important it is to get this right, maybe we'll have more success."
INTEGRATED TRANSPORTATION PLANNING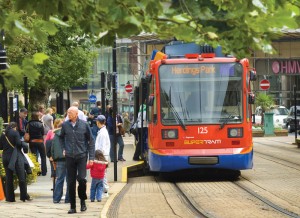 Hierarchical, integrated networks that from the bus all the way up the commuter rail and back. That's what University of Toronto's Eric Miller would like to see—and, he argues, that's what cities need in order to compete with the allure of the auto.
Wong says, "Transit integration and connectivity is not only an issue of service and infrastructure being in place, but the underlying land uses and supportive types of development and densities."
TransLink seems to have grasped that concept, making the connection between land use and transportation planning. Vancouver has a strong history of transit-oriented regional land use planning, and TransLink's 2045 Transport Master Plan (Transport 2045) will go even further in linking land use to transit investment.
The effect of integrated modes of transit is, ideally, increased ridership. Holden says, "Sustaining transit use is all about getting the little things right–including convenient first-mile- last-mile access, making it easier for people to step out of their cars."
"First-/last-mile connectivity doesn't always mean feeder bus shuttles, but building and designing for pedestrians, bicyclists, and other alternate transportation modes," says Wong. Vancouver's Transit-Oriented Communities strategy seeks to encourage certain types of development, high-density, and pedestrian-oriented design that encourages and sustains greater transit use. For the Transport 2045 effort, Arup will be assessing the potential role of electric vehicles for the future regional mobility puzzle both as an environmentally friendly transport medium in itself, but also as a potential means of encouraging transit use by serving last-mile connection needs between stations and homes or workplaces.
The same could work for high-speed rail (HSR) ports. "Wouldn't it be great if the hire car fleets at these ports were electric?" says Holden.
But that vision can only be realized as part of a detailed plan. Unfortunately, high-speed connections are often conceptualized as stand-alone projects—and that will never be as successful as a plan that integrates a variety of transit modes.
Péloquin said, "A few years ago, there was a lot of talk about high speed rail (HSR) between Edmonton and Calgary and also between Quebec City and Windsor and I was talking with MPs at that time and they were focused on HSR only, not talking to others about how you connect those stations from the HSR network to the commuter rail network or the municipal transit systems, and then I've seen a lot of projects being approved by various levels of government, always in isolation, then they get cancelled because political terms only last so long and the funding is not long-term."